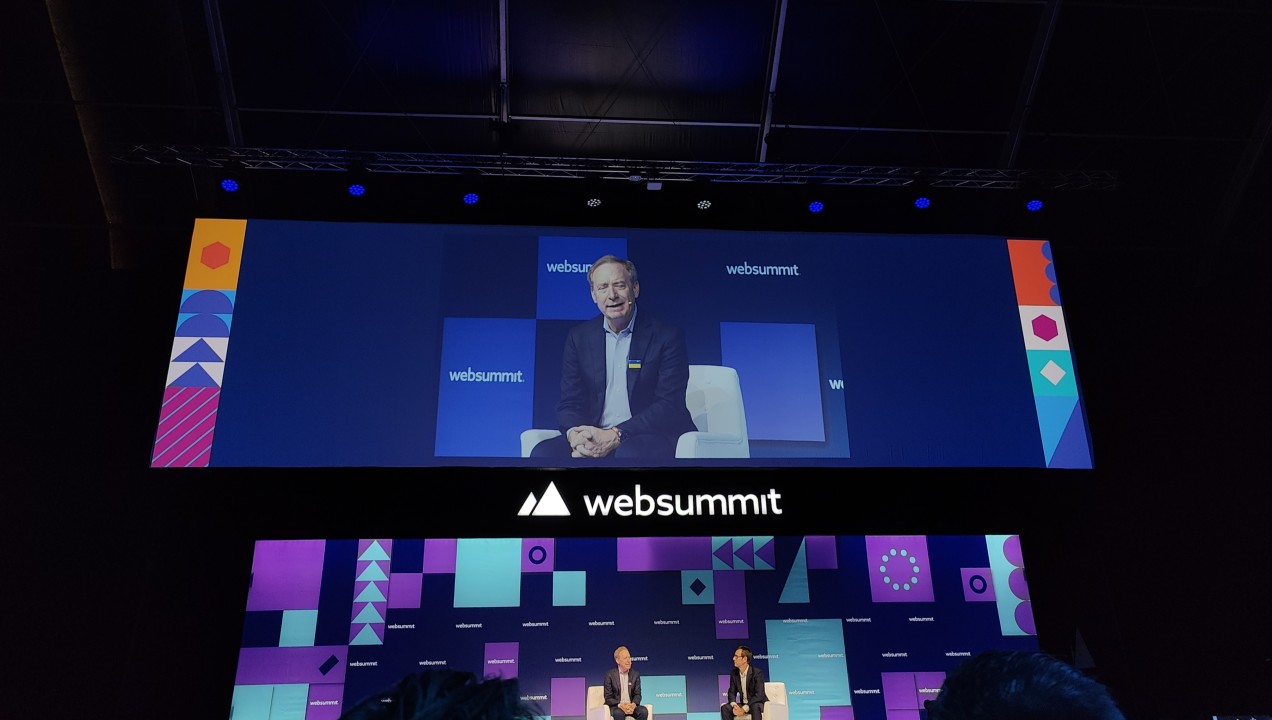 Become more socially driven or lose the game. Learnings for businesses from Web Summit 2022
07 December 2022
"Being authentic is key" — said every third speaker at the #websummit. The funny thing is — those who mentioned it tended to be much less authentic themselves. 
I do agree with the message though  — the main takeaway of the conference is hardly surprising: businesses have to do better. Over 260 talks (about 1/4 of the total) focused on topics about the importance of sustainability, ethics, society, and climate change. People expect companies to be socially & environmentally responsible, and to have a real positive impact on society. While many claim they already do this, few are being truly authentic and actually walking the talk.  
❓So, what are businesses to do? How do we become genuinely socially responsible? Also, is this really a 'must' for companies? And if so, how can marketing help deal with all of it?  
Together with my colleagues at The House of Marketing, I got to attend the world's largest tech event and search for answers there. 
My takeaways:
Being purpose-driven is no longer just a "good to have", it's needed for future business success

 

Companies have to prioritize long-term vision over short-term profits

 

To achieve this, change management comes into play and it's all about people.

 

Marketers are well equipped to help: from changing minds and establishing new VPs to going to market with it all

 
Keep reading for more details & my favorite quotes👇🏼 
🌍 "We have to stop selling our future for short-term profits.
To continue playing (not just winning short-term) – you have to find your deeper purpose." – Khanh Huynh-Kürzinger, Head of Brand, Senior Vice President at Siemens, (The power of a purpose-driven brand, panel discussion) 
I fully agree with the speakers. In an ideal world, the science around climate change, social inequality, and the devastating war in Ukraine should be enough to convince businesses to use their resources for good. Thankfully, for those still not convinced – there are some more arguments for why this should be a top priority for any business:  
"I don't think the next generation of talent will join your business if they do not see you attempting to use the skills, talents, technologies, and capabilities in your company to make things a bit better.

" – Jane Geraghty, Group Global CEO at Landor & Fitch. In the growing war for talent, where the demand for top skills is a lot larger than the supply, companies have to work hard to attract the profiles they need to survive. With what we're seeing so far – companies that ignore societal issues might not even be considered.

 

Beyond the skilled professionals,

investment and capital are also progressively flowing toward social & environmental sustainability

. You could definitely feel this at the Web Summit. Speakers from giants like Apple, Google, and Microsoft, governments, venture capital investors, and small start-ups alike have all shown to be increasingly focused on impactful innovations.

A recent EY survey also shows that 90% of global institutional investors revise investments if companies do not at least consider ESG criteria within their business model.

 
💰
"[At the beginning] digital transformation is JUST cost."
– Lucas Quarta, Partner & Director at Boston Consulting Group (BCG) (Find your digital north star in 90 days using data trinities, masterclass)  
 Just like digital transformation, a purposeful one is likely to be just cost at the beginning too. But that doesn't mean you shouldn't pursue it. 
Businesses have to start thinking long-term. Sacrifices and costs might be uncomfortable at the beginning. But the cost of inaction could be even larger. We see plenty of examples of businesses that ignore future trends, favoring the profitable status quo. Doing so leads them to fail despite huge successes in the past. (Think: Blockbuster, Polaroid). 
I believe history will repeat itself, this time with putting efforts toward purposeful causes. Doing so might not bring immediate rewards. But if done genuinely and consistently – in the long run, it won't just save you from failing, but according to McKinsey & Company, it will help you cut costs, attract top talent, and boost profits.  
💡"Change management is 10% tech, 90% people"
– Edward Crook, Chief Strategy Officer at Brandwatch (What in the world are we thinking? Masterclass) 
Let's assume you're convinced. You agree that your company should put more resources towards making our world a better place. Sadly, the work only begins here. People don't like change, even if they know it's for the best. So here are some tips to start:  
Begin at the top

: "Change management always starts with the CEO" – Marc Schuuring, Managing Director & Senior Partner at BCG. As the head of the organization, they have to begin the change by doing mental flips from the way it's always been to the new reality. To convince them, "…show why this should be among the top 3 priorities" – Andrei Dvornic, Principal at MMC Ventures.

 
🎯 Marketers are equipped to help – from changing minds and establishing new VPs to going to market with it all   
Sustainable transformation, even with all the insights above, is not easy. There are plenty of challenges ahead: how to align purpose with current offerings? Do we need something completely new, or can we adjust what we have? What will our customers care about? How do we bring this to market and stay profitable?   
If you look closely, you might notice that these challenges are not unique to sustainability or social purpose. These are the questions marketers ask themselves every day – and we have answers to share. Here are just some of the ways marketers can help: 
Change management 

 

Convincing people to do/think/buy new things is our specialty, which would definitely help with launching new solutions to market. But first, why not use these skills internally as well? A customer-centric approach will also help to ensure everyone's needs at the organization are aligned and taken into account – which will help with the change and getting everyone onboard. 

 
Value proposition: 

 

Quality marketing doesn't exist without understanding your customers and the market first. We have to continuously analyze consumer behavior, needs, and new trends. Based on which, we re-evaluate how the company should position itself and what value it should and can be bringing. The same way, marketers can help your company understand how purpose and sustainability can work with your existing value proposition.

Take a look at our recent article with 10 steps to a customer centric value proposition to learn more. 
Go to market (G2M)

 

After validating and testing the adjusted or new value proposition, marketers move on with making concrete G2M plans. What messaging should we use, for each segment? Which channels and campaigns? How do we optimize it? All this is relevant no matter the topic and is certainly not new to any experienced marketer.

 
But above all, the Web Summit 2022 leaves me with one most important conclusion: there is hope. I am thrilled to have seen so much focus placed on issues that are often left out of the equation, topics that are uncomfortable to bring up. Thank you, Web Summit, for not being tone-deaf and encouraging 70k+ innovators to put their skills and power to help us overcome the pressing global issues together. I hope this has inspired you as well. 
So, as Brad Smith, Vice Chair & President at Microsoft Corporation, said, let's "innovate our way out of this mess."  
Reach out to us, so we can help you innovate and succeed with sustainable impact. 
Learn more about business design & innovation
Other
relevant
Posts
Discover smart tips, personal stories and our take on the latest marketing trends
Let's push your marketing strategy to the next level!
Switch to a higher gear with our strategic marketing consulting or interim management services.
Start your project