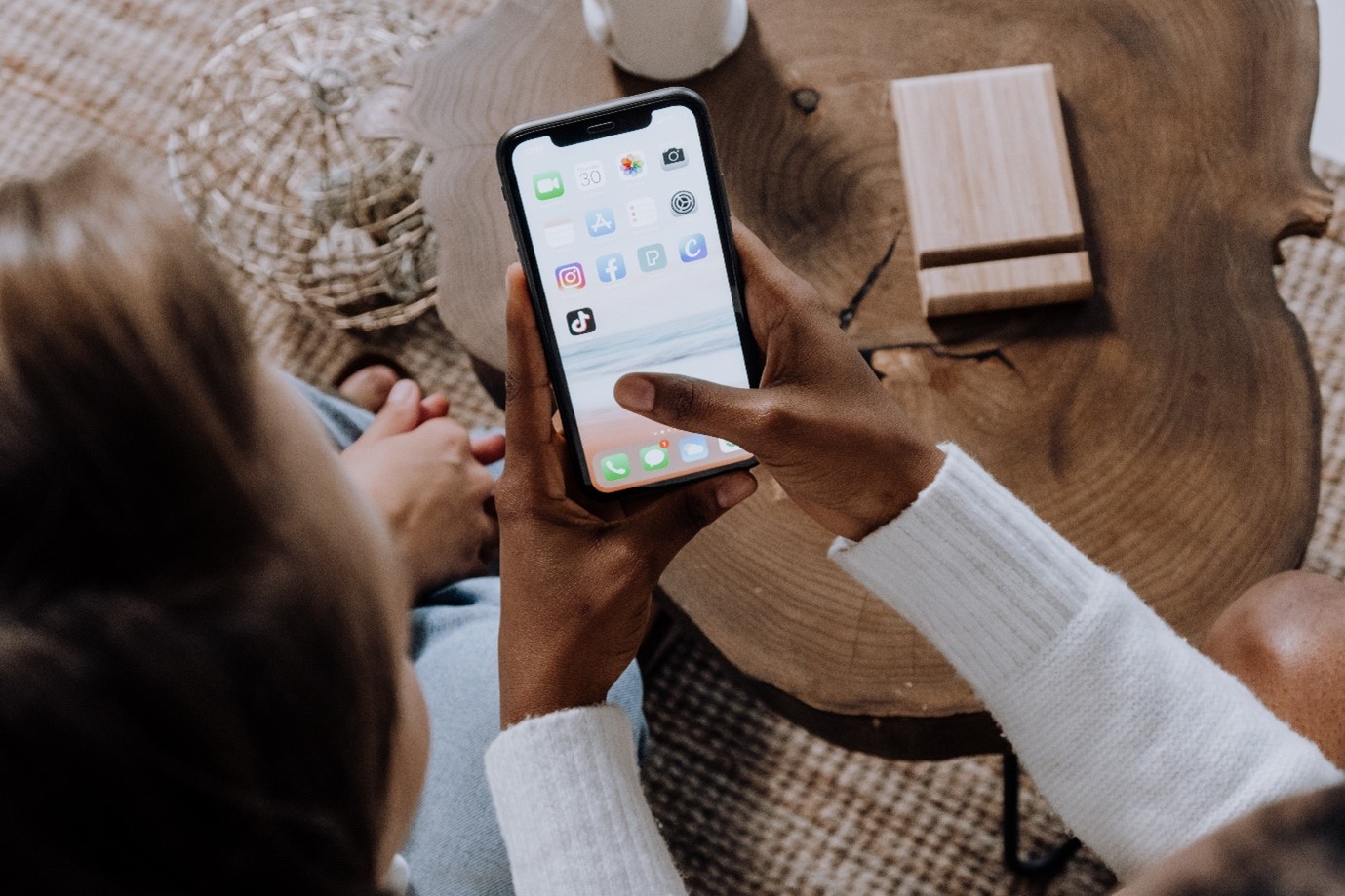 How to get your company started with TikTok ads
25 October 2022
Over the past six years, the social media app TikTok has gained massive popularity. In imitation of other social media platforms, once its user base began to grow, companies introduced advertising strategies to sell their products or services on the app. Today, TikTok encourages businesses to use their platform as a marketing tool: the app facilitates organic reach and offers paid advertisement options. In this article, we discuss three topics: (1) What is TikTok?, (2) Why should your business adopt TikTok? and (3) How should your business use TikTok? Let's get started!
What is TikTok?
In 2016, TikTok was launched as the music sharing app Musical.ly. Two years later, the Chinese tech firm ByteDance purchased the app and transformed it into TikTok as we now know it: an online platform that enables users to express themselves. Self-expression is facilitated through short, bite-sized videos that users can customize using music, filters and effects.
Once they share their content, others can like, comment or share. The algorithm of the app is based on highly personalized content recommendations and encourages users to continue consuming content. That's what makes the app unique.
The audience is unique too. The app has users in more than 150 countries, with the highest numbers of users residing in India, China, and the United States. Not only is the audience located around the world, it also includes an interesting age group: Gen Z, traditionally an audience that's hard to reach through traditional media campaigns. As 44% of all users are members of Gen Z between the ages of 18 and 24 (24% female, 18% male), TikTok mostly appeals to young adults.
The app also gains interest amongst millennials, another social media savvy audience. You could say that TikTok is most relevant for your business if you target women who are younger than 35 years old (especially if you focus on the age range of 18 to 25).
Tip: to gain a better understanding of your target audience, look at the insights TikTok for Business provides.
How is TikTok relevant for your business?
TikTok is becoming increasingly dominant in the world of social media: it was the first non-Facebook app to hit 3 billion global downloads. According to HubSpot, out of those 3 billion, 1 billion are active monthly users. This gigantic number implies a high potential for the brand awareness and visibility of your business.
TikTok is a powerful way to become top of mind amongst your target audience. You can also increase your website traffic or app installs by including a download button or link in your posts. Once you've grabbed your audience's attention, the app allows you to engage.
Even though the app was launched in 2016, the platform is not saturated yet. This leaves space for new voices, as not every major brand is active on the app so far – unlike Instagram or Facebook. This implies less competition from large players over one target audience.
As a result, TikTok is a unique platform to add to your existing social media strategy, because it allows you to be more exclusive, witty and human towards your audience. You can distinguish two ways of TikTok marketing: free (organic) content and paid ads.
Free content: organic content on TikTok
A cool (and cheap) way to engage with your audience is through organic content. This means you create content using your business account, as if you are a regular TikTok user. By sharing fun and engaging videos, you can create a huge impact without paying for it. Here are the types of organic content you can publish:
The Duet feature allows you to post a video side-by-side with a video from another TikTok user. It includes two videos playing at the same time in a split screen. In this format you usually react to the original video. Beware: the Duet option isn't always available, because the Allow Duet button could be switched off in your account settings.
The Stitch tool lets you repurpose content that's already been shared. While a Duet is shown side-by-side with another video, a Stitch integrates the original content in a new video for up to 5 seconds. Double check your settings to see if the Stitch option is turned off.
Soundtrack syncing means you use a (viral) sound to sync your video with. For example, you could sync your lips or dance moves with a song.
Tip: use a trending sound to increase your reach.
TikTok LIVE is a live stream of your content. It allows you to interact with your users in real-time.
How should your business use TikTok for organic content?
Now that you understand the different ways to build organic content, we share tips and tricks to create effective content that achieves your objectives:
Get to the point
TikTok videos can take up to 60 seconds maximum. In reality, however, they last around 25 seconds. Hence, it's essential to use your time wisely. More importantly, you only have a split second to attract your audience's attention. Make sure you get to the point swiftly!
Keep it vertical
TikTok focuses on short-form vertical content. Keep this in mind when shooting your content to make sure it's suitable. Use one of the following video sizes: 9:16, 4:5 or 1:1.
Tip: watch out for the area right behind the like, share and comment buttons as these might block the content behind.
Make your content compelling and outstanding
There are different ways to make your content stand out. For example, you can use filters and effects to increase the appeal of your content. Or you can create content that engages your audience, such as (un)branded (free/organic) hashtag challenges, funny videos or short dance routines.
While creating new content, remember to re-attract users who enjoyed your posts in the past. One way to do so is by adding "Part 1" or "Episode 2", to demonstrate your video is part of a series.
Use hashtags & add popular songs or sounds
If you want to generate views, search for popular sounds. Music is at the core of the app's success, so use it. TikTok users often discover new content by clicking on the track link of a sound in a video. Hence, you can add a popular song to your video to increase your chances of trending or even going viral.
Hashtags work similarly to audio on TikTok: you can click on the audio or hashtag and find more content that integrated this sound or hashtag. Look up which hashtags and sounds are trending and select the ones which fit your brand.
Try to go viral, but don't try too hard
Trends are powerful tools to look at when you aim to go viral. But bear in mind: there is no secret formula for success. Whatever you do, remain authentic and on brand, because that's what users appreciate the most.
Promote at the right time/be at the right time at the right place
As mentioned before, trends are powerful tools to use. Look for trending topics or events to generate buzz, as it's an interesting way to gain attention. It's essential to promote your content at the right time: don't be early, don't be late.
Tip: find out more about your audience's behaviors and interests, as well as how and when to connect with them.
Include a website link in your bio
Once users are under the spell of your content, they will visit your TikTok page. Make sure you guide them to the right place: include a website link in your bio. It's a great way to generate traffic or even drive conversions.
Paid content: TikTok ads
In addition to investing in organic content on TikTok, you can pay for advertisements. There are different types of TikTok ads, which begs the question: what is the objective of your ad (campaign)? Based on your objective, you select the appropriate type of ad. We'll take a quick deep-dive into the five most important ones:
Branded effects mostly consist of stickers, lenses or filters that a brand builds for TikTok users to use while creating their own content. They aim to increase engagement and brand awareness.
A branded hashtag is an ad that shows up in the Discovery section of the app. It aims to inspire users to create content linked to a brand-related hashtag. Brands that use branded hashtags have exclusive access to them, which is not the case on other social media platforms. The objective is to encourage user participation and build brand awareness through user-generated content (UGC).
Top view ads appear once a day at the top of the For You page when users start scrolling. They aim to increase brand awareness, since they can take up to 60 seconds.
In-feed ads are ads that appear in between regular content on the For You The ads are almost indistinguishable from native content. Users can like, comment and share those ads, which boosts distribution. Driving conversions and increasing website traffic or app installments (through a call to action) are the main objectives.
Brand takeovers are full-screen ads that pop up when users open the TikTok app. It's a combination of top view ads, in-feed ads and branded hashtags. Takeovers aim to build brand awareness and visibility by eliminating competition for a while, since users only get to see one brand takeover ad per day.
Influencer marketing involves a brand collaborating with (in this case) TikTok influencers to promote their product or service.
How should your business use TikTok ads?
In what follows, we share a step-by-step guide to help you to set up your TikTok ads. Let's take it from the top:
Step 1: Create a TikTok Ads Manager account
Create your login and fill out your business email address. Afterwards, you set up your personalized account by adding information such as your country, business name and currency.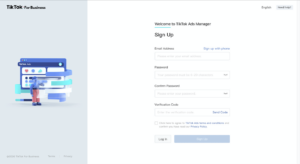 Once you've launched your account, you can start creating your campaign, ad groups and ads. Let's break down the difference between the three levels:
An ad campaign focuses on strategies, goals and budgets. It aims to reach a specific marketing objective.
Within an ad campaign, you create one or more ad groups, which focus on offers, targeting and placements.
Ads make up an ad group – meaning each ad group consists of different ads with a common theme.
Step 2: Create a campaign
Now that you've created your account, log in and click the Campaign button at the top of the page. You then hit the Create button to get started!
Before setting up your campaign, think about the objective: what are your business goals? TikTok divides possible goals into three categories: Awareness, Consideration and Conversion.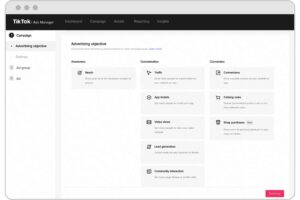 Once you've identified your advertising objective, you determine a campaign name and budget. Your campaign budget is the amount of money you are willing to spend on the entire campaign. Once you've reached your limit, your campaign stops running, although you can change your budget to end your campaign sooner or keep it online longer.
You can choose between three types of budget options:
No limit: You set no limit on the money spent on ads within your campaign.
Daily budget: You set a daily limit on the money you are willing to spend on a campaign or ad group per day.
Lifetime budget: You set a maximum amount of money you want to spend during the entire period of your campaign.
Step 3: Create an ad group
As mentioned before, an ad campaign can consist of one or more ad groups. There are four important subjects to decide on when creating an ad group: Placement, Targeting, Timing and Bidding.
Placement refers to the places you want your ads to appear. There are three placements options: Automatic Placement, Select Placement and Block List (or Pangle). It's recommended to use Automatic Placement, because it optimizes delivery to reach more users and drive more traffic.
Targeting refers to the audience you choose to focus on. You can create your own custom audience based on criteria such as age, gender, interests, behaviors and the device they use.
Decisions about timing include the date range of your ads (beginning – ending) and time slots within the day. For example, you could have your ads run for 4 weeks, but only between 5 and 10 PM.
Next, you select your bidding strategy. In this final phase, you choose how much you are willing to pay per click (CPC), per mille (CPM) or per conversion (oCPM).
Step 4: Create a new ad
Let's take a closer look at how you create an ad on TikTok.
Start by naming your ad. This name will not be visible for your audience, it merely helps you to distinguish the different ads in your ad group.
You then have three options: you upload a video from your device, upload one from stored ads in your library, or create one using your TikTok Ads Manager's creative tools.
Once you've selected or created an ad, select a thumbnail. Think about it: this is an important step, as it grabs the attention of your audience!
Now you can enter ad details such as your display name, a caption and a URL to your website.
Don't forget to add your call to action. Tell your audience what to do next, for example: "Download", "Learn more" or "Contact us".
Before publishing your ad, preview it to verify what it will look like for your audience.
Once you've completed all steps, it's time to submit!
Step 5: Measure your performance
You can now successfully use TikTok ads to reach your target audience. But your journey does not end here. Knowledge is power: in order to measure your success and improve your ads, you have to continuously monitor your performance and results.
TikTok Ads Manager provides two ways to analyze your results. You can either monitor your ad performance high-level on the Dashboard page or check your ad performance in a more detailed way on the Campaign page.
__________________________________________________
Sources:
https://ads.tiktok.com/business/creativecenter/pc/en?rid=grpwcx9iktc&utm1=gbm&utm2=GBShttps://blog.hootsuite.com/tiktok-advertising/#2021_TikTok_advertising_stats
https://blog.hubspot.com/marketing/tiktok-for-business
https://nealschaffer.com/tiktok-marketing/
https://sproutsocial.com/insights/tiktok-ads/
https://sproutsocial.com/insights/what-is-tiktok/
https://www.cyberclick.net/numericalblogen/how-to-advertise-on-tiktok-step-by-step-guide
https://www.houseofmarketers.com/advertising-on-tiktok-top-uk-usa-examples/
https://www.houseofmarketers.com/current-tiktok-engagement-rate-for-brands-influencers/
https://www.houseofmarketers.com/what-are-spark-ads-on-tiktok-heres-why-they-are-better/
https://www.tiktok.com/business/en/blog/creative-that-drives-conversions
https://www.tiktok.com/business/en/insightshttps://www.tiktok.com/business/en/resources
https://viscapmedia.com/articles/organic-marketing-tiktok-strategy-guide/
https://www.socialmediaexaminer.com/tiktok-organic-content-strategy/
Learn more about digital strategy
Other
relevant
Posts
Discover smart tips, personal stories and our take on the latest marketing trends
Let's push your marketing strategy to the next level!
Switch to a higher gear with our strategic marketing consulting or interim management services.
Start your project