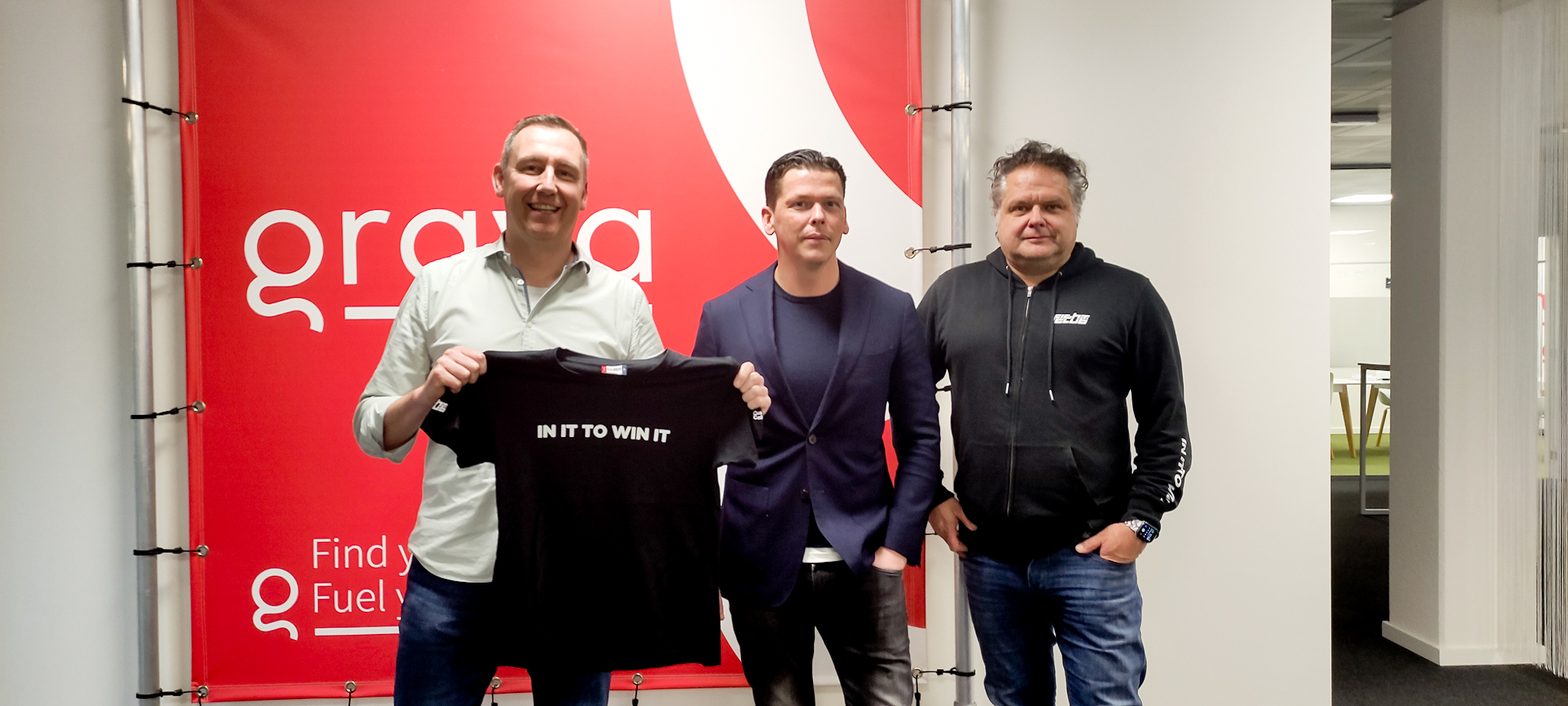 Press release – Customer Collective brings Grava under the Fightclub brand
17 February 2022
February 17th, 2022 – Customer Collective strengthens its expertise in branding & performance as Grava, one of the original driving forces behind the group, renames itself Fightclub. As such, the Mechelen-based digital performance agency joins forces with the Dutch full-service agency of the same name. This brings the total to 100 branding & performance experts in Belgium and the Netherlands.
With the rebranding of Grava, Customer Collective strengthens its offering in branding & performance in Belgium and the Netherlands. Branding & performance is one of the focus areas of the group besides strategy, digital, data and technology. While branding involves the image of a brand, digital performance marketing is a collective term for digital marketing activities aimed at measurable results.
Dennis Kenis (Grava), Stefan Nuijten and Cees Faes (Fightclub).
Integrated services
Grava's name change to Fightclub is the result of a growing demand. The agency based in Mechelen focuses on digital performance, but lacked branding expertise. "We have long felt that we can enable clients better and more successfully by combining creativity with our performance campaigns. For example, you can steer creative campaigns with insights and increase the return on performance through better creative expressions", says Dennis Kenis, founder and managing partner of Grava. "Also, customers often want to limit the number of partners so that they can switch easily and achieve greater economies of scale."
As a full-service agency, Fightclub – which developed the famous 'We Are Belgium' campaign for Jupiler – has creative know-how as well as digital performance in house. Grava and Fightclub have been working together on various projects for almost a year. "The strong match between our services and those of Grava made us want to join forces. By renaming Grava as Fightclub, we can offer digital performance, strategy and creation in an integrated manner in Belgium", says Stefan Nuijten, founder and managing director of Fightclub.
A solid foundation
With its new name, Grava will benefit from Fightclub's strong reputation in the Netherlands. For the fifth year in a row, in 2021 the agency was named best full-service agency in the Netherlands in the category of big agencies, following a study by Multiscope for the trade magazine Fonk.
"With 100 branding & performance experts, we have laid a solid foundation in Belgium and the Netherlands. Together, we face the future with confidence", concludes Grégory Delens, managing partner at Customer Collective.
***End of press release***
About Grava
Grava is a digital performance marketing agency that puts brands, companies and products on the digital track for more leads, more sales and more business. Its passionate team of digital experts has tons of experience and knows exactly what works and what doesn't. Not words, but data!
More info at www.grava.be and soon at www.fightclub.eu.
About Fightclub
Fightclub was established in 1990, then known as The Communication Company (TCC), and has independently grown over the years into one of the bigger agencies in the Netherlands. Fightclub has been voted best full-service agency of the Netherlands in the 'big agency' category for five years in a row. We believe that marketing is all about winning. Whether it's market share, brand awareness, sales, or awards. And to win, every piece of the puzzle must fit, from brand strategy to core creative idea, from social media to your Google Ads. Fully integrated, measurable and ROI-focused. Fightclub is a creative firm that works as result-focused as any digital agency. And we are a digital agency that can produce as many clever ideas as any creative agency. Because a strong brand means nothing if it doesn't convert, and a digital strategy has no chance without a strong brand.
More info at www.fightclub.nl.
About Customer Collective
Customer Collective helps companies build a strong relationship with their most important asset for growth: their customer. We call it 'Customer Ownership'. It puts the end customer at the centre of every activity, including identifying needs, creating products and services that meet them, building customer experiences, deepening relationships through up-selling and cross-selling, and dealing with churn. This requires a unique combination of strategy, digital, data, technology and creativity. Customer Collective concentrates on these 5 pillars, which is why we have combined the strengths of The House of Marketing, Upthrust, Dignify, AddData and Fightclub. Unlike other groups in the European market, our companies work closely together: for each project, profiles with complementary expertise and skills are selected in order to generate as much impact as possible.
Customer Collective is supported by Down2Earth Capital and Quanteus Group.
More info at www.customercollective.eu.
Other
relevant
Posts
Discover smart tips, personal stories and our take on the latest marketing trends
Let's push your marketing strategy to the next level!
Switch to a higher gear with our strategic marketing consulting or interim management services.
Start your project