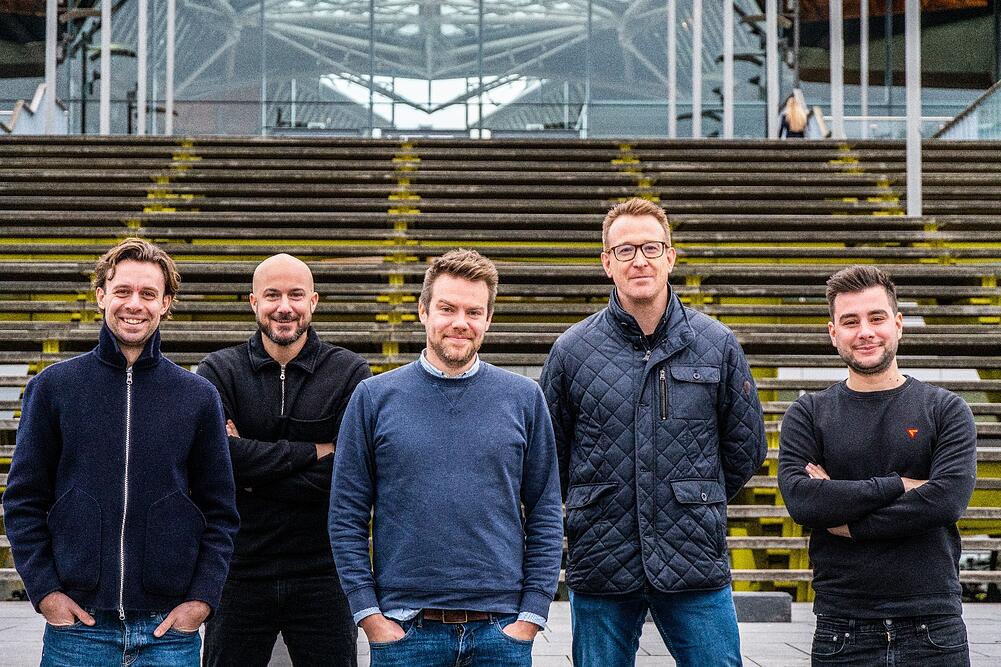 Press release – Customer Collective welcomes GrowForce: Upthrust becomes European market leader in growth marketing
22 December 2021
Antwerp, December 22nd, 2021 – GrowForce, a leading growth marketing agency which has made its name in the Benelux, joins Upthrust, one of the 5 driving forces behind Customer Collective. The integration of GrowForce with Upthrust makes the latter a European market leader in growth marketing services.
GrowForce has built a solid reputation over the past 3 years as a leading growth marketing agency in the Benelux. The company has a diverse customer portfolio: with names such as Unilever, P&G, KBC, Nestlé and Ethnicraft, it consists of corporates, start-ups and SMEs.
At the same time, Upthrust has grown into a leading digital acceleration office specialized in advanced digital analytics, full-funnel growth marketing & digital product design for companies throughout Europe. The integration of GrowForce and the addition of its mature academy offering makes Upthrust the unmistakable market leader in growth marketing. Customer Collective, the international group behind Upthrust, is strengthening its digital expertise domain with this new acquisition.
Amaury Timmermans (GrowForce), Stijn Sommerijns (Upthrust), Dennis De Cat (Upthrust), David Van der Auwera (GrowForce) and Nicholas D'hondt (GrowForce).
Growing demand for scalable marketing
"Unlike traditional marketing, growth marketing requires a more flexible mindset from companies. The focus is no longer on large, long-term campaigns, but on quickly testing things out and seeing what works best. The methodology is a data-driven and result-oriented way of doing measurable and scalable marketing and sales. In the present context of extensive digitization, the demand for this is growing considerably," explains Dennis De Cat, Managing Partner at Upthrust.
The GrowForce team of expert growth marketers will be fully integrated into Upthrust. "With their arrival, we are expanding our group offering with an academy, among other things. This is an educational platform which teaches SME leaders, marketers and corporate teams this new growth methodology. We convert practical experience into valuable certified courses and workshops on the most up-to-date marketing strategies, tools and tactics. We intend to scale that offer internationally and adapt it more to the needs of our customers," says Dennis De Cat.
"By joining Customer Collective, we can now offer our customers a much wider range. At the same time, our employees can continue to specialize in growth marketing, only now on a European scale. This transaction is therefore a win-win for both our customers and our team," explains David Van der Auwera, co-founder of GrowForce.
Rapid growth of Customer Collective
Customer Collective was established in March 2021 as an initiative by Upthrust, The House of Marketing (strategic marketing consulting & interim management) and Dignify (CRM & marketing technology). The group grew rapidly when in June the Dutch Fightclub (branding & performance) and the brand-new data entity addData (machine learning & data architecture, focused on marketing) were added. Customer Collective thus unites various areas of expertise – specifically digital, strategy, data, technology and branding & performance. "We put together a team with complementary profiles from the various entities, based on the needs of the end consumer. That is what distinguishes us from other players in the market," concludes Grégory Delens, Managing Partner at Customer Collective.
***End of press release*** 
About Customer Collective
Customer Collective helps companies build strong relationships that focus on their most important asset: their customers. We call this 'Customer Ownership' – the end customer is at the heart of every activity. This requires a unique combination of customer strategy, digital acceleration, data, technology and branding & performance. Customer Collective brings these 5 building blocks together by combining the strengths of The House of Marketing, Upthrust, Dignify, Fightclub and addData. For each project, we select the best profiles with complementary expertise and skills to generate the greatest possible impact.
Customer Collective joins forces with Down2Earth Capital and Quanteus Group.
More info at www.customercollective.eu.
About GrowForce
GrowForce is a leading Benelux growth marketing agency which covers all facets of growth hacking: from strategic marketing advice, to training, to the realization of complete sales & marketing campaigns, from experiment and validation, to execution.

The more than 20 advisors/specialists combine the necessary IT and sales and marketing knowledge, from content creation to the organisation of a complete e-commerce proposal, for both B2B and B2C. GrowForce has offices in Antwerp and Zaventem.

More info at www.grow-force.com. 
Other
relevant
Posts
Discover smart tips, personal stories and our take on the latest marketing trends
Let's push your marketing strategy to the next level!
Switch to a higher gear with our strategic marketing consulting or interim management services.
Start your project