The House of Marketing and Upthrust are looking for a passionate marketer in the role of SENIOR BUSINESS MANAGER.
In this role you will help growing the business of The House of Marketing and Upthrust by proactively approaching potential clients, being the trusted marketing advisor of your client portfolio, designing the marketing strategies and plans needed to address your clients' marketing challenges. You also assign and coach the THoM teams performing the marketing missions.
Read more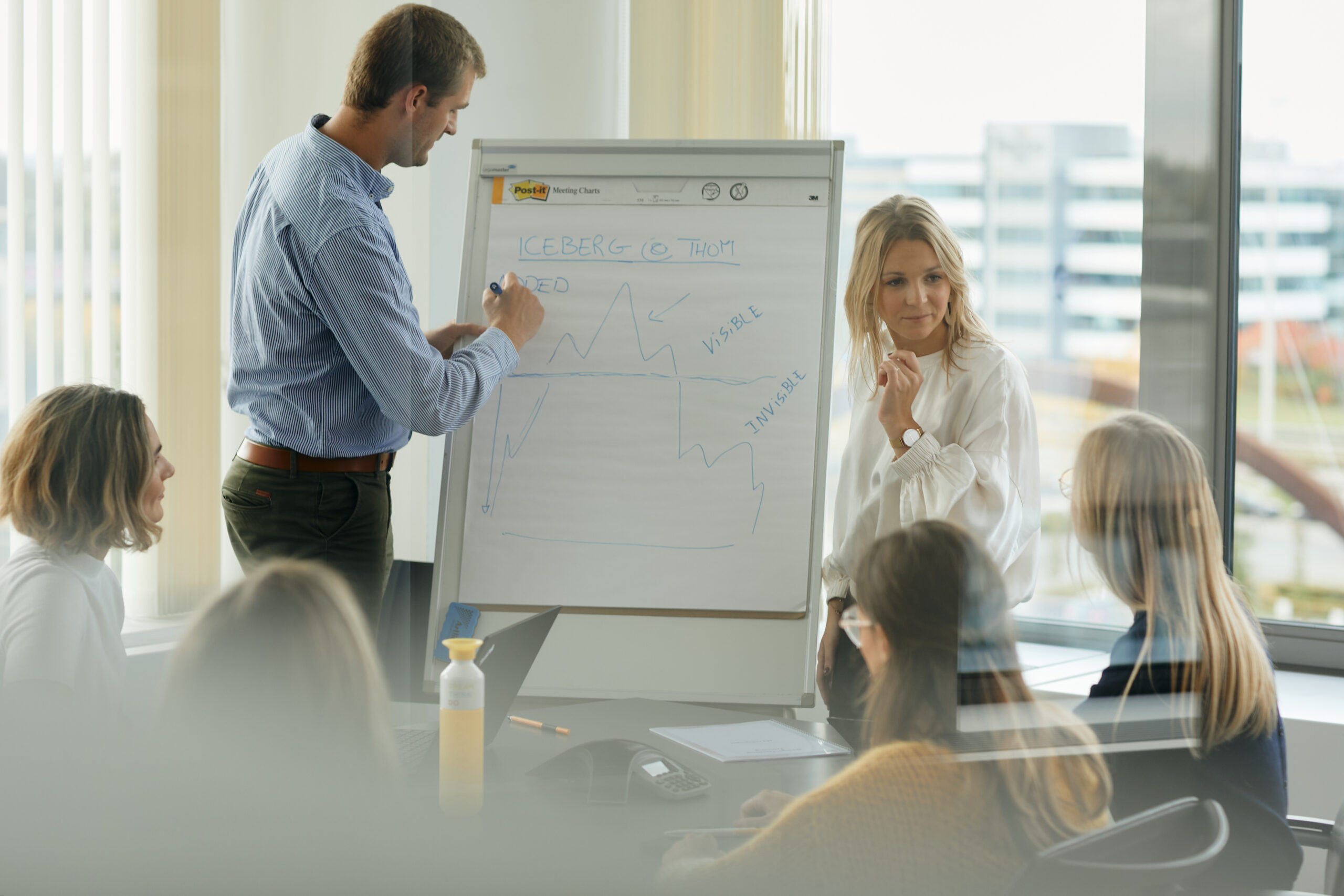 The challenge


Strategic Marketer
As a strong strategic thinker, you understand the marketing challenges of your clients.
You design the marketing strategies needed to address your clients' challenges. In this process you integrate the expertise and experience of your colleagues at The House of Marketing and Upthrust.
You design the concrete action plans to realize the defined strategies.
You define, build and coach the team of marketing consultants, with complementary expertise and experience, to fulfill the mission.
Trusted advisor to CMOs
As a provider of solutions and services, building a trusted relation with your client is key. This relation is built on strategic marketing excellence and trust.
You develop a strong relationship with the client, focused on long term collaboration and trust.
You are a great listener, allowing your client to open up and share their challenges.
You will be responsible for a wide portfolio across sectors, across different marketing topics.
Coach
You coach the consultants on the projects at your clients both on marketing and soft skills.
You support the consultants when necessary in difficult situations on their mission.
You have regular follow ups with the client to capture feedback on the progress of the mission.
Beyond the scope of your projects, you have a counseling role for a group of THoMers in which you are responsible for career guidance and support.
Business Developer
You further expand the client portfolio by proactively searching for business opportunities and building strong relationships.
You defend your proposed marketing strategies and plans, integrate your client's feedback.
You negotiate and close the deal.
You will report to the Client Service Director.
Is this you?
We're looking for a passionate marketer with:
A true hunting mentality
A sales driven attitude, getting energy from building business and reaching the set objectives
A broad network with marketers in the relevant region
A proven track record in strategic marketing
A proven track record in the execution of marketing plans
A proven track record in people management
Strong client management/development skills:
– Relationship building skills; ability to listen and uncover clients' needs and challenges
– No experience is needed in negotiation, however there must be openness to learn in this area
– Excellent presentation/communication skills
Strong consulting skills:
– Able to engage, influence & educate
– Analytical mindset, well structured, problem solving approach and attitude
Strong communication skills, fluent in the local language(s) (Dutch and/ or French for Belgium, and Dutch for The Netherlands) and a very good command of English.
A passion for new trends, new products and new marketing technology, curious and continuously developing strategic marketing skills. You can translate these into new solutions
Hear from your
future colleagues
I love that I can easily and rapidly reach out to all other THoMers. In no time, thanks to our internal communication tools, I can gather tips that I can apply at the client.
Stepping into the consulting world after building 10+ years of corporate experience, is an extraordinary journey. You get to broaden your horizon to many opportunities that boost your career… and level of enthusiasm!
Our offer
At The House of Marketing and Upthrust, we strongly invest in our 'THoMers', and Upthrusters offering a nurturing, dynamic and growing working environment. The House of Marketing and Upthrust combine the best of both worlds: the entrepreneurial spirit and mindset of a SME with the array of opportunities typically offered by large corporations, thanks to exciting projects with our clients (leading medium-sized or large companies active in virtually all sectors).
Apply Now