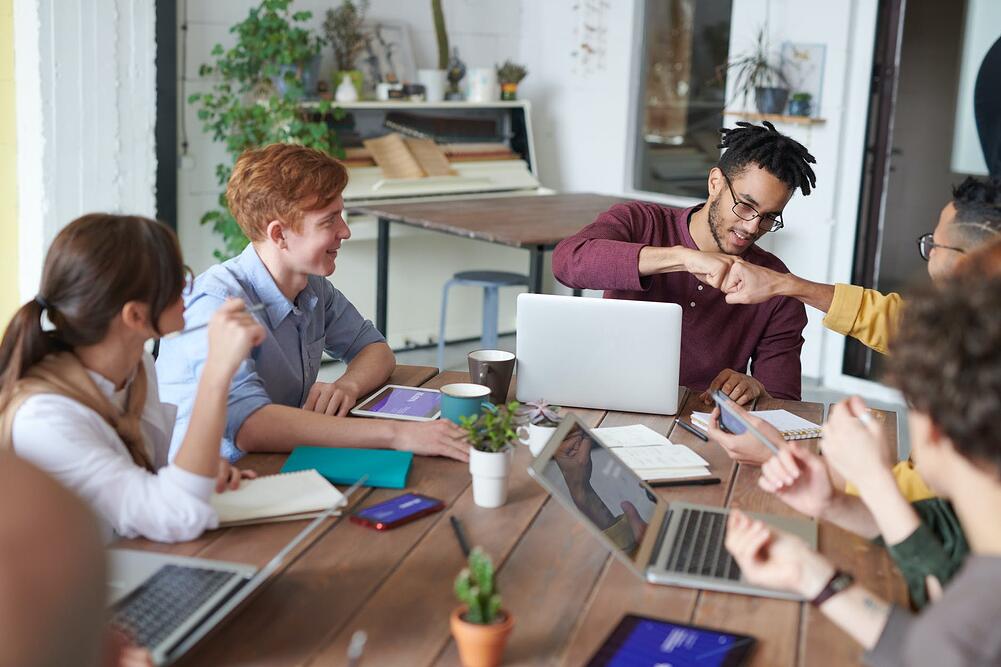 How to set up a dream team for business growth?
14 February 2022
After some different projects in different industries. You start to see patterns. Some challenges you just see coming back at several clients.
After some different projects in different industries. You start to see patterns. Some challenges you just see coming back at several clients. One of them is definitely how to the set-up of your marketing team right. Which capabilities do we need to remain or move ahead of the competition and cope with the continuous changes that affect the way we do marketing?
From what I've seen and learned, the solution can be summed up in 3 points:
How do we design a dream team?
How can we foster the right mindset?
How do we keep and develop our talents?

Get the basics right: focus on the right mix of skills and knowledge
Looking at the necessary capabilities to stay ahead of the marketing game, there is one general discussion that should be addressed. Generalist versus specialist profiles or T- versus I- shaped profiles. It's actually the combination of both, T- and I-shaped profiles that makes the marketing machine tick.
T-shaped profiles come with a more general marketing skillset and broad marketing knowledge (the horizontal bar in the T), because of their experience in different domains. They have in-depth expertise in one field (the vertical bar in the T). By knowing a little of a lot, they are usually the ones setting the pace by combining insights from different fields and bringing everything together. I-shaped profiles are specialists in their domain and have exhaustive knowledge and experience in that field (hence the vertical I shape). They don't tend to know much about other marketing fields. Typical examples of I-shaped marketers are growth marketers, performance marketers, SEA specialists… As keeping up with the breadth of digital marketing and the overload of tools that come along with it represents a major challenge in many marketing organizations.
The combination of both generalist and specialist profiles makes for a very powerful organization. As close collaboration with other departments is key, generalists are needed to easily connect with them. They also keep the helicopter view, connect the dots between different functions and have a strong business sense. Specialists with extensive digital expertise in certain domains/tools/channels are needed to advise and excel in specific digital functions.
For generalists, the necessary hard skills relate to broad foundational skills required to deliver value in any marketing organization. Among these core marketing skills are project management, sharp stakeholder management & agency management. Essential soft skills to thrive in the new marketing era are the ability to embrace change, critical thinking and strong collaborative skills. Business acumen is another imperative skill, as marketing drives a higher commercial goal. A thorough understanding of the commercial and competitive landscape you're operating in is needed to accurately measure and optimize key commercial metrics.
From a marketing point-of-view understanding your customer is of course crucial, which makes customer journey mapping a fundamental skill.  As data is becoming more and more of a marketing asset, helping us to truly understand customers and enabling us to assess if and which of our marketing efforts have the desired results, a basic knowledge of data management & analysis is required. Strategic thinking and connecting the dots remain vital skills, just as the ability to develop a solid (digital) strategy is needed to achieve your marketing objectives.
For specialists, the necessary hard skills are channel-based or specific technical skills required to complete certain marketing tasks. These range from social media marketing to SEO/SEA, e-commerce, content marketing, UX/UI, technology specific …
Mindset: the holy grail?
What will truly keep you afloat in this context of continuous change, is the right mindset. Skills & capabilities are important but can go out of date rather quickly if you don't nurture them correctly. They need to be firmly anchored in a mindset that allows us to embrace the acceleration of change. The ability to embrace change and continuous learning can be characterized by what's called a growth mindset.
A growth mindset entails the belief that you can constantly learn and develop new skills. With this mindset, you can start looking at challenges as opportunities to improve. A marketer with a growth mindset therefore has a greater ability to deal with change, is more curious and more open to learning. Part of the growth mindset is the openness to experiment. When aiming to improve your marketing impact, it's often not clear what approach will have the desired result. Therefore, a test-and-learn culture helps you identify what actually works by acting on the results. You try, you learn, you improve and are better prepared for the next challenge.
Build your talent engine
Preparing your teams for the future also means revisiting your talent strategy, recognizing you might need some new talent to build new skills and to inspire your current team and different ways of rewarding people. A company's strategy determines not just the kind of people it needs but also what those people can reasonably expect and aspire to. Unfortunately, many companies don't invest in the kind of talent development that this linkage implies. A talent system requires a significant amount of work. Get started early and make HR a critical partner in the change.
As mentioned above, it starts with defining which profiles you need. By doing this, you will probably realize there are quite some gaps to fill, especially for critical in-house capabilities that are of strategic importance. In some situations, it might be cheaper and easier to train people in new skills than to find talent externally. Whatever the situation, carefully think through how you will attract, develop, retain and reward your employees.
Equipped with the best marketers… now how do we kill the silos and accelerate our business?
Equipped with the right profiles in your team, we're not quite there yet. Being able to adapt quickly in today's context of continuous change is crucial and the right way of working should enable this adaptability while ensuring sustainable growth.
An agile organization successfully balances out adaptability and stability by building a network of teams characterized by versatility, collaboration, engagement and relentless focus on the customer. ​It is characterized by leadership providing direction and vision​, putting together multi-disciplinary teams with end-to-end accountability​ driven by close collaboration within and between teams​. This set-up with cross-functional, empowered teams enable the organization to respond swiftly to challenges or opportunities.
Don't be discouraged by the seemingly complex set up with tribes, squads, chapters, etc. Although the terminology might sound daunting, an agile way of working doesn't have to be a 100% perfect execution of the proposed structures and frameworks. 'Going agile' can happen gradually and pragmatically. As there are many aspects to going agile, starting by implementing the best practices with the least effort and highest impact is often a good start.  Every company has to define what their own agile way of working is. An example could be starting to work in sprint set ups for certain short-term projects with clear end goals.
Want to discover more about organizational design, how to develop a strong strategy and have an impact as a marketer, even if you're not a decision maker? Listen to our podcast:
DISCOVER MORE ABOUT CUSTOMER EXPERIENCE
Other
relevant
Posts
Discover smart tips, personal stories and our take on the latest marketing trends
Let's push your marketing strategy to the next level!
Switch to a higher gear with our strategic marketing consulting or interim management services.
Start your project