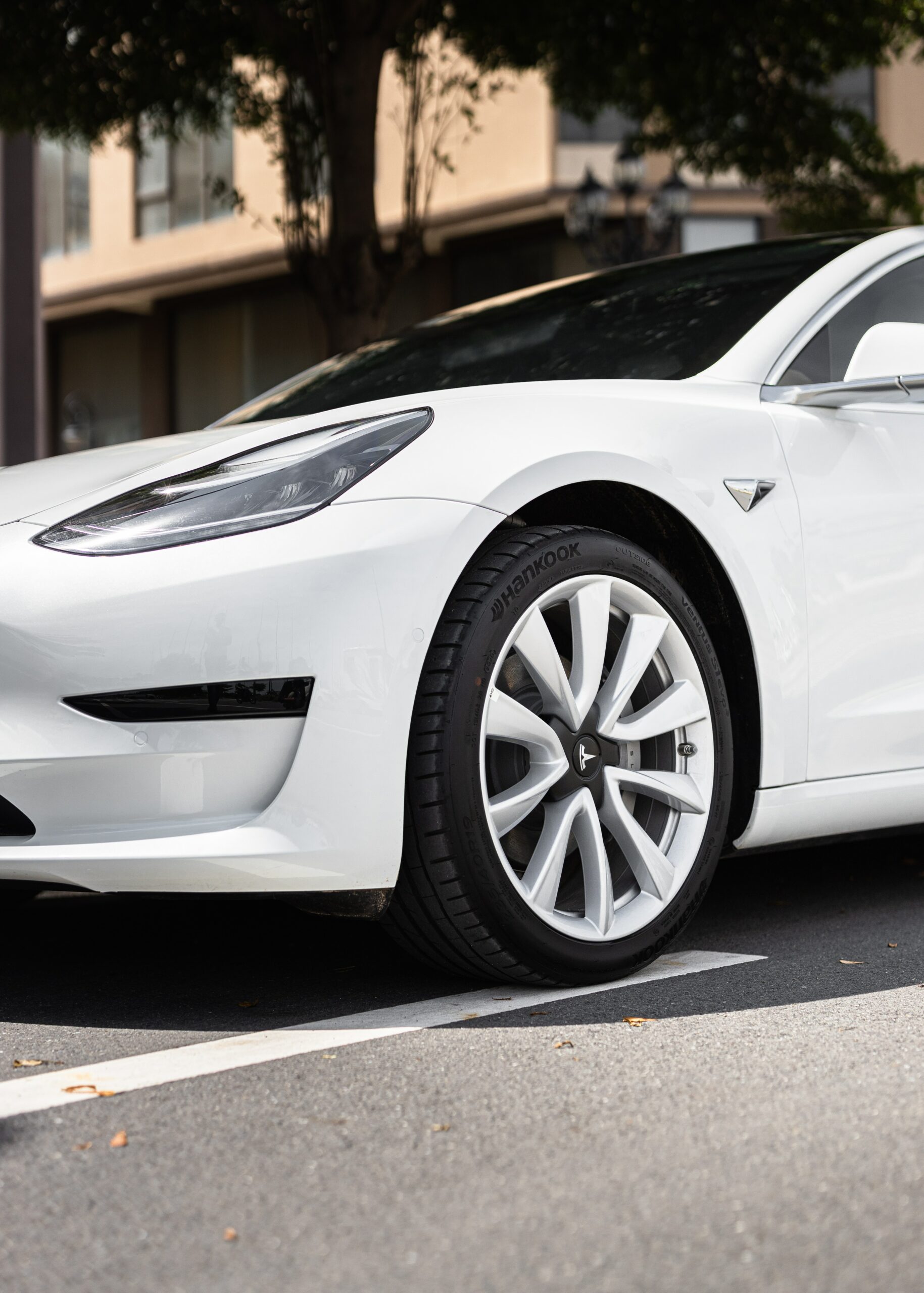 Buying & selling cars online: how e-commerce is disrupting the automotive industry
16 September 2020
Had you told your friends or family in 1997 that you were buying a car online, you would have got some strange looks or even been laughed at.

But what's the story today, 20 years down the road? Would they still be laughing? This is where we are right now:

The growth of e-commerce has been unstoppable for many years now already. People of all ages love to shop online and can easily find anything on the web they want to buy immediately. And there is still a long way to go! With all the current technologies, this growth is expected to continue and even increase to unprecedented levels.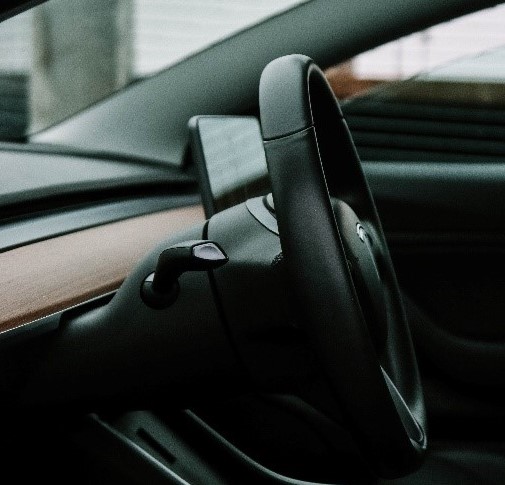 E-commerce growth isn't just visible in the typical sectors like travel, fashion, electronics, etc. but also in sectors involving investment purchases, such as the automotive industry.

The automotive industry has been prone to epic changes in the past. Henry Ford, for example, pioneered mass production by coming up with the assembly line. This time, however, it is true to say that a totally different kind of epic change is taking place in the industry. There is a huge shift taking place in the way cars are sold by automotive players and researched by consumers.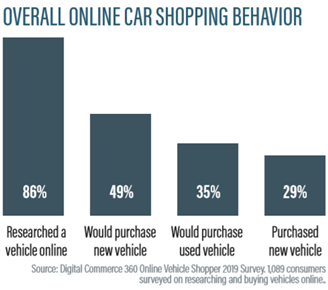 Automotive retailing is going increasingly online. According to the Digital Commerce 360 Online Vehicle Shopper 2019 Survey, almost 90% of consumers claim their new- or used-car buying experience is digital. 49% of consumers would buy a new or used vehicle online. Global web sales for cars, trucks and SUVs are going up a gear. In Europe alone, by 2025, the number of sales is expected to be 46 times higher.

The emergence of automotive e-commerce translates into significant new sales opportunities for manufacturers, dealers, and other digital car sellers. Some examples:
The PSA Group wants to sell 100 000 units of Peugeot, Citroën, and Opel online next year, without the customer stepping a foot in the showroom.
The Daimler Group (Mercedes-Benz) wants to sell 25% of its passenger cars through online channels by 2025.
Tesla announced in 2019 it was closing an undetermined number of its stores and selling its new $35 000 Model 3 electric car entirely online. It claimed that moving online, combined with other cost efficiencies, would enable them to lower all vehicle prices by about 6% on average.
There is a radical shift underway towards the web. E-commerce and digital technologies developed to sell consumer cars are driving all automotive players to expand their online offers.
In the eyes of the consumer
Although the right digital technologies are there to sell cars online, is the consumer ready for automotive e-commerce?

Consumers are heading less frequently to the dealership to start and end the car buying process and are doing more online research. They prefer visiting manufacturer, dealer, and other automotive websites to research, find, build, and buy the vehicle they want.

Readiness to switch to online differs
Males are more likely than females to purchase both new and used cars online. We can assume this is related to their affinity for cars. Younger segments also are more likely to be online car purchasers, which is probably a reflection of their internet-savviness.

New online cars vs used online cars
Online purchases of new cars are a lot more likely than online purchases of used cars. With used cars, there is in general a higher need for in-person inspection to make the final decision. In this case, research can be done online, but inspecting, test driving and buying from the dealer or owner offline prove to be the best fit.

The WHY behind the online car research & buying behavior
As a company, you want to meet consumer expectations. Hence the importance of really understanding their behavior. Here are the main factors that prompt consumers to research and buy vehicles online:
Buyers want to know what information is available. Arming themselves with enough information allows them to make smart, well informed decisions.
Basic customer experience in showrooms is lagging behind. 52% feel anxious or uncomfortable when visiting a car showroom. 61% feel like they are taken advantage of at a showroom. Among car buyers, there is a long-standing negative feeling towards car showroom salespeople. People want to avoid dealing with them.
Consumers want price transparency. They expect businesses to be upfront about the true cost involved in making the product. Getting the right prices is top of mind for buyers.
Consumers like to have a broad overview of all vehicles in the market and they like to see what vehicles are available nearby.
Other factors playing a role in the shift to the online web are improved efficiency, better prices for online purchases and benefits of one-stop online shopping across a range of brands.

Suggestions for automotive players
Consumers are more and more likely to buy online. However, for the time being, websites are still mainly used to obtain information, not to purchase a car. Dealer visits remain an important offline touchpoint when considering a car purchase. Therefore, omnichannel retail should be fostered in order to enhance customer experience, as customers are truly omnichannel.

Accelerate investments in online to improve internet experiences
An online search is typically the starting point and today's online buyer expects the experience to be tailored to their needs. All necessary information should be available online. The models you sell, the features, the prices, the necessary documents – Everything. All information customers might receive when they walk into your showroom should already be available online, accessible from home.
Now, which elements of the online search journey are worth taking that extra look at? According to the Digital Commerce 360 Online Vehicle Shopper 2019 Survey, the following features were most important when researching and buying vehicles online:
Comparison shopping, the ability to compare prices across different retailers.
Building and pricing out a vehicle, the ability to specify vehicle features.
Vehicle photo gallery
Information on your vehicle's trade-in value. Consumers like to know when to trade in their car to get the best value and like to understand how the car dealer will determine your trade-in value.
Information about car financing including calculators. Financing is an integral part of the buying process. Consumers prefer to be able to arrange financing with the ability to compare options.
Warranty information: what type of guarantee does a manufacturer make regarding the condition of the car?
Information about the vehicle buying process. What are the different steps in the car buying process?

Invest in offline to improve customer experience in the showroom
Customers are well-informed when they enter the showroom. 60% have already decided on brand, model and price when arriving at a dealership. They contact dealers late in the process for test drives and complex tasks like final configuration and purchases. The reason for going to car showrooms is changing a lot. It is important to act on them. There are things you can do as a car manufacturer or dealer to enhance the offline customer experience and keep your showrooms a valuable part of the customer journey.

Here are some examples to leverage the use of technology in order to enhance the customer experience:
Audi added VR & AR to their retail efforts allowing customers to discover Audi's full range of models, discover future concept cars, customize cars and do a virtual test drive in their favorite location.
Vroom uses VR to let customers visit virtual showrooms and to test drive from their home to give consumers added insights and help them feel more confident when buying a high-involvement item online.
With the Peugeot Amplified Experience you can virtually enter one of its latest models.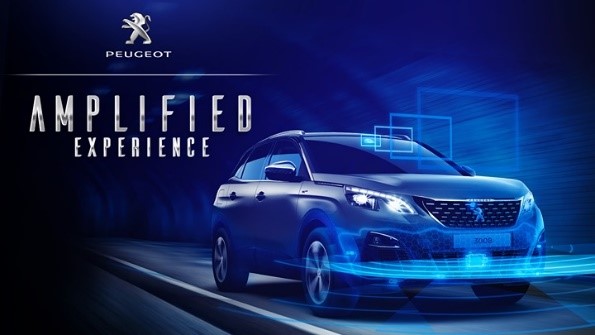 In addition, retailers could innovate their retail formats. Auto dealerships don't just sell a car, they sell a lifestyle. As all information should be available online, the main role of showrooms becomes selling an experience. Give your visitors a chance to connect with the brand. Embrace the excitement customers feel about making the purchase.

Some examples:
Mercedes showroom telling the history of the brand.
Lexus brand stores and pop up stores. Warm, open luxury houses with coffee shops, restaurants, art galleries, meeting and event spaces to discover the lifestyle of the brand (in parallel with dealerships that handle the sales).
Tesla Motors with a new format where less is more. Tesla's pop up stores allow them to reach new customers and change location while still allowing prospects to connect with the brand.
Automotive retailing is going increasingly online. Want to accelerate your own online offer?
Go further
Download our E-commerce Canvas to set out or optimize your strategy.
Other
relevant
Posts
Discover smart tips, personal stories and our take on the latest marketing trends
Let's push your marketing strategy to the next level!
Switch to a higher gear with our strategic marketing consulting or interim management services.
Start your project